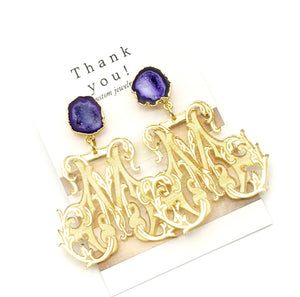 **All Geode Tops vary a little**
These earrings are approximately 1.8" depending on your Monogram. This is a single letter monogram. This style can only be done in a mirror finish. If you select a solid color it will just be made with the outline.

LEAVE A NOTE FOR ME TO SEND OPTIONS IF YOU WOULD LIKE TO SELECT YOUR GEODE TOPS.
If you would like a different style, color, or other customization please use the below link to view the options we have. Select "Custom" and leave me a note of what you want changed at checkout. Thanks!
https://corasden.com/collections/color-options