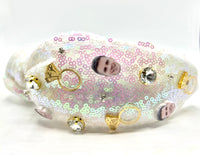 Need help with a custom design?
 e-mail - custom@corasden.com
Let's work together to take your idea and bring it to life. We are eager to help you and will respond within 1-2 business days!
Contact us with any questions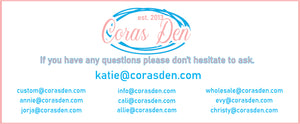 Our Cora's Den Family
Cora's Den is a family-owned small business out of Morrilton, Arkansas that specializes in creating quality custom jewelry. With the help from our small team, we design and make custom earrings, necklaces and more. Every order is handled and packaged with care!
Whether you are looking for fun seasonal earrings or monogrammed jewelry or headbands, we have something for you! Check out our collections and be sure to sign up for our newsletter to hear about sales and announcements!